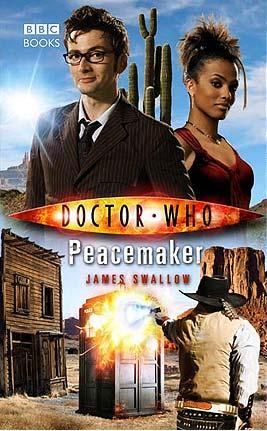 The peace and quiet of a remote homestead in the 1880s American West is shattered by the arrival of two shadowy outriders searching for 'the healer'. When the farmer refuses to help them, they raze the house to the ground using guns that shoot bolts of energy instead of bullets...

In the town of Redwater, the Doctor and Martha learn of a snake-oil salesman whose patent medicines actually cure his patients. But when the Doctor and Martha investigate they discover the truth is stranger, and far more dangerous.

Caught between the law of the gun and the deadly plans of intergalactic mercenaries, the Doctor and Martha are about to discover just how wild the West can become...

The Doctor and Martha are about to find out if a sonic screwdriver is more powerful than a six-shooter - the latest in the bestselling series of Doctor Who novels.


I GIVE THIS BOOK:
MY THOUGHTS:
This was a fun read. I was a little worried that I wouldn't enjoy the story, since it takes place in the Wild West, but I needn't have worried. The story was very entertaining and, as with all DW novels, a fast read.
The characterization of the Doctor and Martha were spot on in my opinion. I was able to picture everything they did as though the actors playing them were doing it, which is something I love.
The only thing I didn't care for was the weird way the western people spoke. I've read many novels with characters from the west in the 1800s and none had them speak this way. This wasn't a huge thing, though it's probably the main reason I'm only giving it four stars instead of five.
If you love watching Doctor Who you'll love reading Peacemaker.
If you found this review helpful, will you please click yes HERE. Thanks!