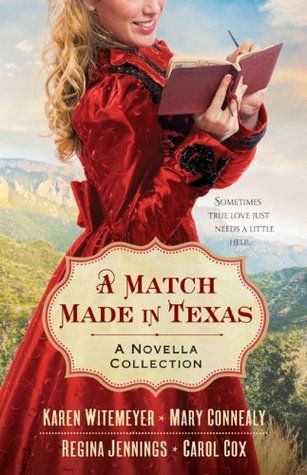 In the small town of Dry Gulch, Texas, a good-hearted busybody just can't keep herself from surreptitiously trying to match up women in dire straits with men of good character she hopes can help them. How is she to know she's also giving each couple a little nudge toward love?

A Cowboy Unmatched
Neill isn't sure who hired him to repair Clara's roof--he only knows Clara desperately needs his help. Can he convince this stubborn widow to let down her guard and take another chance on love?

An Unforeseen Match
Hoping to earn an honest wage on his way to the land rush, Clayton ends up on Grace's doorstep, lured by a classified ad. He may have signed on for more than he expected though--and he may have found the one woman who can keep him from moving on.

No Match for Love
Andrew can't fathom how refined Lucy ended up as the caretaker to his dotty aunt, and somehow her arrival has prompted even more bizarre occurrences around the ranch. When they join forces to unearth the truth, will the attraction between Andrew and Lucy develop into more?

Meeting Her Match
When the tables are turned and a tenderhearted meddler becomes the beneficiary of a matchmaking scheme, her world is turned upside down. As her entire life changes, will she finally be able to tell the banker's son how much she cares for him?


I GIVE THIS BOOK:
MY THOUGHTS:
A Match Made in Texas is comprised of four novellas all having to do with matchmaking of some kind. The first three have a secret matchmaker who sets up the first three couples and the fourth one we find out the identity of the matchmaker and watch her meet her match.

A Cowboy Unmatched by Karen Witemeyer - 5 Stars
After reading both Short-Straw Bride and Stealing the Preacher, I was waiting very impatiently to read Neill's story. I fell in love with the Archer brothers and wanted to see what lady would get paired with Neill.

The story was great from start to finish. The only thing that I could complain about was that it was short, but that's just me wanting more of this family and not anything having to do with the story itself - since for a novella it was absolutely perfect! It didn't feel rushed at all.

The romance was so sweet! There were some very heartwarming scenes, but I won't say more as I don't want to spoil it.

If you've read the previous two books featuring the Archers I'm sure this is already on your must read list. However if you haven't, even though the story could stand on its own, I would suggest reading them in order as you'll get so much more out of it if you do.

An Unforeseen Match by Regina Jennings - 5 Stars
I LOVED this story! It was so sweet and romantic, but at the same time it took on such a scary and serious issue - blindness.

I loved how Grace wasn't a wimpy, dejected woman but wanted to find ways to be as self-sufficient as she could be.

Clayton was a great character. I loved so many things about him and I don't know if I should mentioned specific things as I don't want to spoil the story should you decide to read it. I will say that once I learned his full story I was even more impressed with him.

This story almost felt like a full sized novel and that's hard to do with a novella. The pacing was great and the conclusion oh so perfect!

This story turned out to be my favorite of the four, which kind of surprised me after how much I loved the first one - I didn't think any of them would top it.

No Match For Love by Carol Cox - 4.5 Stars
The story started out great and continued to be so until the last 10 pages or so, then everything wrapped up so quickly and neatly that it was a little boring. I think the only reason this happened is because it's a novella so I'm cutting a little slack, but after the first two being completely enjoyable this one fell just a little short so that's why I gave it a half star less.

This is the first story I've read by Carol Cox and if it's any indication of her other books I've been missing out on some wonderful books, as I'm sure a full length novel won't have the same problem. I'll definitely be checking them out soon.

Meeting Her Match by Mary Connealy - 3.5 Stars
This story is by far the shortest of the four and I wish it wasn't. The story felt super rushed and a bit crazy at times.

I felt so badly for the heroine of this story. So many things have happened in her life that are just terrible.

I know the ending was supposed to be funny and cute the way it wrapped up, but I just found it first of all unbelievable and to be completely honest wrong on the parts of so many. I would have like it so much better if it happened differently.

There was also quite a bit of repetitiveness and with the story only being 75 pages I felt that took away from the story.

One thing that bugged me, and I could be miscalculating this, was when one of the characters from the previous stories is said to be expecting in December of 1893 and then a year later is said to be round with child (same baby). No specific date was given of the actual time of the ending of the story, but with the characters bringing out Christmas items it sounds like it's close to December, if it's not that month already. This was only a minor thing and didn't affect my rating.

This was also the first story I've read by Mary Connealy. I'm sure I'll be reading one of her full length novels sometime, as I do own one of them, just not sure when I'll get around to it.

On the whole I greatly enjoyed A Match Made in Texas and highly recommend it.

I received a complimentary copy of this book to review. I was asked to give my honest opinion of the book - which I have done.
If you found this review helpful, will you please click yes HERE. Thanks!