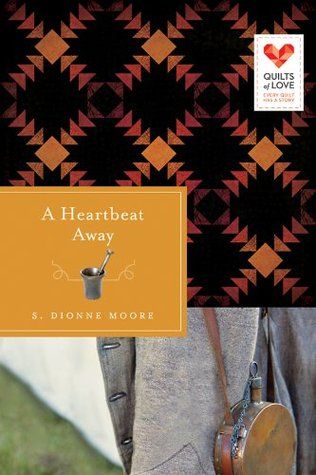 When a band of runaway slaves brings Union-loyal Beth Bumgartner a wounded Confederate soldier named Joe, it is the catalyst that pushes her to defy her pacifist parents and become a nurse during the Battle of Antietam.
Her mother's mysterious goodbye gift is filled with quilt blocks that bring comfort to Beth during the hard days and lonely nights, but as she sews each block, she realizes there is a hidden message of faith within the pattern that encourages and sustains her. Reunited with Joe, Beth learns his secret and puts the quilt's message to its greatest test—but can betrayal be forgiven?


I GIVE THIS BOOK:
MY THOUGHTS:
This book sounded like it was going to be one I would love, it's set during the Civil War and is about a romance between people from opposite sides, but I just couldn't connect with it.
I loved the heroine grandmother, she was such a great character! The way she took care of everyone she could, no matter what color uniform they wore, was wonderful. I loved how she explained why she was doing it to Elizabeth.
There is a lot of repetition, which is always boring to me. Though the romance was sweet, it did seem very rushed and that's something I don't like at all. The way things were told made it very hard to understand what was happening or did happen - for the longest time I was trying to figure out what was the cause of Elizabeth's injury.
The part the quilt plays in the story, while touching, felt forced and a little too much.
All in all, this book was okay. If the synopsis sounds interesting and you want to read it, this is one I would recommend borrowing first.
I received a complimentary copy of this book to review. I was asked to give my honest opinion of the book - which I have done.
If you found this review helpful, will you please click yes HERE. Thanks!