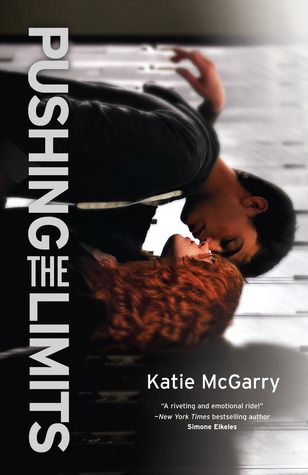 So wrong for each other...and yet so right.

No one knows what happened the night Echo Emerson went from popular girl with jock boyfriend to gossiped-about outsider with "freaky" scars on her arms. Even Echo can't remember the whole truth.

But when Noah Hutchins, the smoking-hot, girl-using loner in the black leather jacket, explodes into her life with his surprising understanding, Echo's world shifts in ways she could never have imagined. They should have nothing in common.

Yet the crazy attraction between them refuses to go away. And Echo has to ask herself just how far they can PUSH THE LIMITS and what she'll risk for the one guy who might teach her HOW TO LOVE AGAIN.


I GIVE THIS BOOK:
MY THOUGHTS:
I don't usually like contemporary novels, however this book kept me riveted and I hated it when I had to put it down. At the same time several things were unbelievable and the ending was just okay - would have liked a little more, but maybe the future books will have more about these characters.

I'm not an emotional reader, rarely do I cry or tear up, but there were a couple scenes towards the end that had me getting misty-eyed - which surprised me! I wasn't expecting that to happen, at all!

There is a lot of strong language in this book (at least 42 f-words, 23 uses of a**, 47 uses of d**n, 65 uses of h*ll, 31 uses of s***, and 9 uses of d**k), as well as several steamy scenes. So while this is a young adult book I would only recommend it to the older range of that group.
If you found this review helpful, will you please click yes HERE. Thanks!