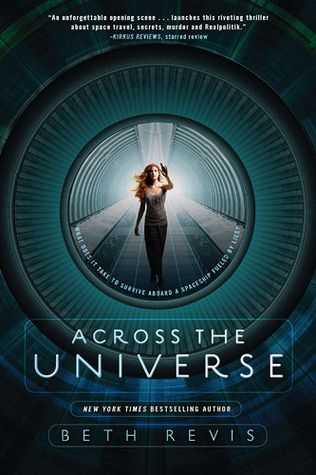 Amy is a cryogenically frozen passenger aboard the vast spaceship Godspeed. She expects to awaken on a new planet, 300 years in the future. But fifty years before Godspeed's scheduled landing, Amy's cryo chamber is unplugged, and she is nearly killed.

Now, Amy is caught inside an enclosed world where nothing makes sense. Godspeed's passengers have forfeited all control to Eldest, a tyrannical and frightening leader, and Elder, his rebellious and brilliant teenage heir.

Amy desperately wants to trust Elder. But should she? All she knows is that she must race to unlock Godspeed's hidden secrets before whoever woke her tries to kill again.

I GIVE THIS BOOK:
MY THOUGHTS:
I loved this book SO much more than I thought possible! The first chapter was chilling, in such a good way, that after reading it I just couldn't put it down!

The point of view alternates every chapter between Amy and Elder, which I usually don't like but in this book I greatly enjoyed! Instead of being confusing it added to the story and helped to describe things that would otherwise have been harder to understand.

The story had so many moments that shocked and surprised me. For quite a bit of the latter half of the book I was just exclaiming things and was so surprised, which I really wasn't expecting at all. I love when a book does that and this one did it until the very end!

I highly recommend this book and can hardly wait to read the next book!



If you found this review helpful, will you please click yes HERE. Thanks!