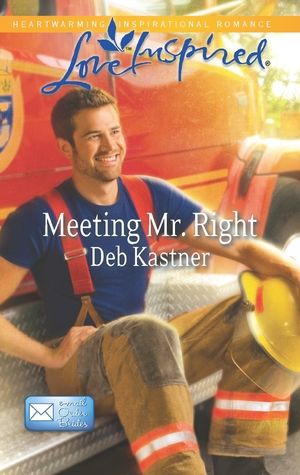 When Mr. Wrong Is Mr. Right

A woman in a man's world, firefighter Vee Bishop has to be tough as nails. She's developed a hard shell that no one can penetrate. But Vee's online friend BJ sees her softer side. BJ seems so kind and caring just the opposite of Ben Atwood. Her annoying coworker has trampled expectations all over town, or so rumor has it. Turns out, once she agrees to give Ben a fair shot, he's surprisingly vulnerable. As Vee prepares to make a difficult choice, an unexpected twist shows that love is always one step ahead.


I GIVE THIS BOOK:
MY THOUGHTS:
Meeting Mr. Right was such a fun read. It reminded me, in a way, of the movies The Shop Around the Corner and You've Got Mail; but even though it reminded me of those movies it was still unique and very entertaining.

I could relate with the heroine and that always make a story so much more enjoyable. The hero of the story was such a nice guy and was handsome and very fit - which is always a nice thing. :)

The reason I picked this book up was because it's part of an email order bride series. I love the traditional mail-order bride stories and wanted to see how it would be with email. It wasn't exactly what I was expecting, both of the main characters weren't looking for someone to marry but happened to meet online and formed a connection. This is the fourth book in the series, but I'll definitely be reading the others three sometime (hopefully this year). I definitely don't think it matters reading them out of order, I never felt lost or anything.

The only reason this book isn't receiving a five star rating is because, at times, it was a tad slow and that made it a little boring to read. But overall it was a very good read and I would recommend it to those who enjoy reading mail-order bride stories.
If you found this review helpful, will you please click yes HERE. Thanks!