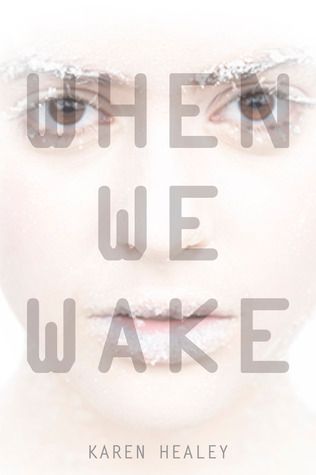 Sixteen-year-old Tegan is just like every other girl living in 2027—she's happiest when playing the guitar, she's falling in love for the first time, and she's joining her friends to protest the wrongs of the world: environmental collapse, social discrimination, and political injustice.

But on what should have been the best day of Tegan's life, she dies—and wakes up a hundred years later, locked in a government facility with no idea what happened.

The future isn't all she had hoped it would be, and when appalling secrets come to light, Tegan must make a choice: Does she keep her head down and survive, or fight for a better world?

Award-winning author Karen Healey has created a haunting, cautionary tale of an inspiring protagonist living in a not-so-distant future that could easily be our own.

I GIVE THIS BOOK:
MY THOUGHTS:
I just finished and am unsure of how I feel about this book. The beginning was excellent and drew me in immediately. However my interest began to wane halfway into it and by the time I reached the end I was puzzled by the story.

The way the story is told is interesting but by the end, when you then know most of everything that has happened up to that point, it doesn't make sense that some things were included.

There's a very strong preachy feel to this book, that everyone (or almost everyone) from the early twenty-first century was considered to be racist, homophobic, etc., which was aggravating. Yes, some people are, which is a terrible thing and they can be very loud about it, but that doesn't mean everybody is. If this would have been mentioned once or twice, I wouldn't have minded too much; but, it was brought up so much that I found it very annoying.

For those who don't like foul language there's several uses of the f-word, as well as a few others.

The ending leaves you hanging, which is great if you're interested in reading the sequel, but I'm not sure if I will - so that's disappointing.

All in all it was interesting, but it's probably not a book I will recommend.



If you found this review helpful, will you please click yes HERE. Thanks!