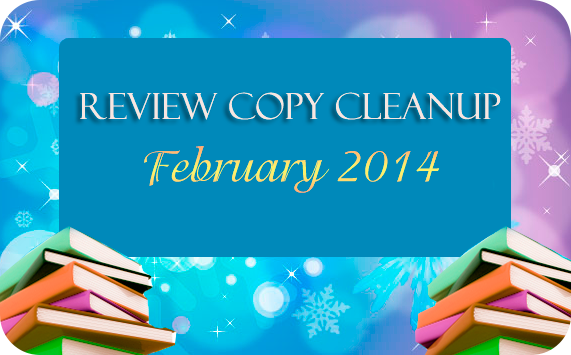 I'm signing up to participate in the Review Copy Cleanup 4.0. My goal is to read at least 12 books. I'll be keeping track of my progress on this post,
Goodreads
, and
Twitter
.
Here are the details:
The Review Copy Cleanup 4.0 runs from 1 to 28 February
It starts and ends at midnight according to your local timezone to avoid confusion
To sign up, just fill in the linky below. Link to your sign up post directly, please! The linky is the same on both of our blogs, so you only have to sign up once
The linky will close on the 15th, so make you sign up before then
When you post your sign up post on your blog, either include the challenge button with your post or link it back to this article so that people know where to sign up. Thanks! (:
Every book you received for review counts towards the challenge, both e-books and hard copies (even audiobooks for review, if you have those), including all genres and lengths
Feel free to use the #RCCleanup hashtag on Twitter for your RCC related tweets or join in the Twitter party at http://tweetchat.com/room/RCCleanup and meet lots of awesome bloggers (:
At the end of every week we will post our personal updates, and we'll include a linky for you to add yours!