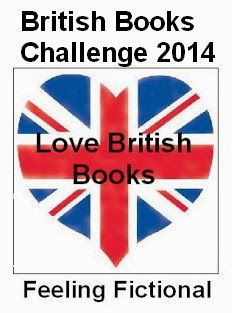 Hosted by Feeling Fictional





About the challenge

(copied from the sign up post)

:




So what is the British Books Challenge?




The BBC is a reading challenge that was created by Becky from

The Bookette

in 2011 as a way to encourage people to read more books by British authors. The challenge was taken over by Kirsty at

The Overflowing Library

for 2012 and has been hosted here at

Feeling Fictional

since 2013.




The books can be in print or out. Old or new titles. They can be from any genre and for any age range. Becky and Kirsty's blogs both focus on YA books but I read a mixture of adult, NA and YA so you can expect to see reviews of both on my blog. Obviously it's entirely up to you if you want to read adult, NA, YA or children's novels - or a mixture of them all!




If you sign up for the Challenge you will be aiming to read at least 12 books by British Authors (which works out to one a month). For every book you review each month you will get an entry into the draw to win a monthly prize pack. Therefore the more you read the more entries you will rack up. Towards the end of the year I hope to do some kind of special prize draw for those who have gone to the most effort over the year managing to read 50 or more British Books. As prize packs are mainly being sponsored by British publishers I'm afraid that some of the prizes will only be available for UK participants but I hope that international bloggers will still take part. I will try to host a couple of international giveaways throughout the year but it will depend on finances and whether I can afford postage costs for sending out the books.




If you have any questions about the challenge then make sure you check out the FAQ page

HERE.



Sounds fun! I'll be keeping track of my progress on my 2014 Reading Challenges page, found
HERE
.
Books I might read:
The Darcy Cousins by Monica Fairview
The Slitheen Excursion by Simon Guerrier
Peacemaker by James Swallow
Snowglobe 7 by Mike Tucker
Me and Mr. Darcy by Alexandra Potter
Witchstruck (The Tudor Witch Trilogy #1) by Victoria Lamb
The Other Countess (The Lacey Chronicles #1) by Eve Edwards
Fallen Grace by Mary Hooper
Numbers (Numbers, #1) by Rachel Ward
The Declaration (The Declaration #1) by Gemma Malley
Judgement of the Judoon by Colin Brake
Prisoner of the Daleks by Trevor Baxendale