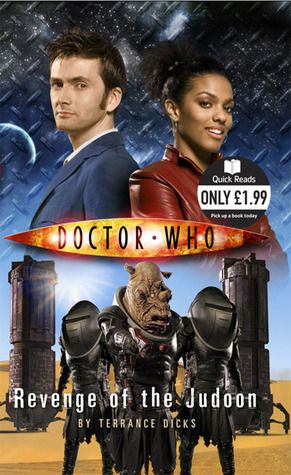 The TARDIS brings the Doctor and Martha to Balmoral in 1902. Here they meet Captain Harry Carruthers - friend of the new king, Edward VII. Together they head for the castle to see the king - only to find that Balmoral Castle is gone, leaving just a hole in the ground. The Doctor realises it is the work of the Judoon - a race of ruthless intergalactic mercenary space police.

While Martha and Carruthers seek answers in London, the Doctor finds himself in what should be the most deserted place on Earth - and he is not alone.

With help from Arthur Conan Doyle, the Doctor and his friends discover a plot to take over the world. With time running out, who will fall victim to the revenge of the Judoon?

Featuring the Doctor and Martha as played by David Tennant and Freema Agyeman in the acclaimed hit series from BBC Television.


I GIVE THIS BOOK:
MY THOUGHTS:
This was such a fun read! I have recently discovered the Doctor Who quick reads, and this is only the second one I've read, but I really enjoy them. They're so easy to read in one sitting, almost like watching an episode. :)

Historical people are brought in a characters in the story and they really play no real point in it - their "parts" could have been filled by anyone and it would have served the same purpose.

I liked that Martha actually dressing in a period outfit, she normally doesn't and I've always wanted her too.

I loved many parts of Revenge of the Judoon, but there wasn't much to the story. However, it still brought a smile to my face and made me laugh several times so I think it very much deserves a four star.

I would recommend this book to any Whovian.
If you found this review helpful, will you please click yes HERE. Thanks!